This page to be re-worked.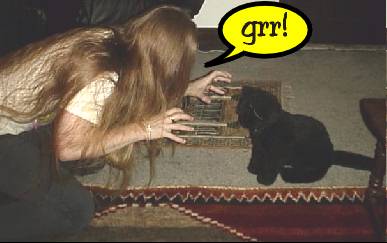 Who am I?
My name is Kingsley Tart (it has its advantages) and I was born in September 1967.
What do I do?
Oooh lots missus. Well, a little bit anyway.
I'm a senior computer tech in my job, and then I come home and watch Star Trek.
How can you contact me?
By filling in this form.
Where do I come from?
The country. I spent the first 19 years of my life in Shropshire where the sun shines sometimes and the cows wake you up in the morning.
I then moved to Kingston upon Thames, went to college for a while, met some friends, and got a job in an IT department. After a while I got a reputation for being a general hairy mad thing that knew a lot about computers, though most people there were quite reserved so you can tone that one down a bit.
Eight years later, I left my job and started another one just up the road in a company called Data Systems Electronics doing PC and Networking consultancy, installations and support. Most people there thought I was completely barking (in a nice kind of way, so they said) and I usually managed to turn my lunch into a point of comedy, especially when it contained rather copious amounts of garlic.
After 4 years of that it was time to move on so I changed to work for an Internet provider in Camberley. I've been there since September 2000 and am known as the, er, well it's kinda hard to describe. I seem to manage to entertain and bewilder the rest of the staff so that's cool. Oh, and I do systems development too ...
What do I like?
Ooh loads, now let's see ...
My girlfriend, Jan. She's got to be the most fantastic person I've ever met.
Nature. I love animals. Animals are great. When I move back to the country, I want chickens, ducks and other beasties. I also love the countryside, and the Scottish Highlands are excellent.
My pussy cats! Little Man and Sponge are the dudes.
my car and tuning it a bit
Stonkingly good beer, like Gales HSB, Morland Old Speckled Hen, Ringwood Old Thumper, Theakstons, etc. Don't like lager and London beers (except Fullers, who make some rather fine ales). I like to brew my own as well but have had varied success.
Star Trek (now there's a surprise).
Garlic and Indian food.
Motorcycling (except the turbo's gone on my own bike at the moment)
Making people laugh (usually achieved while not trying)
Good music (esp live when played well). My main tastes tend to be rock music of one type or another
Monty Python, Blackadder, Fawlty Towers.
Meeting new people (nice ones) and making new friends, socialising with existing ones, having friends round for the evening, etc.
What do I dislike?
Raw tomatoes by themselves
Most sport
People dropping litter
Kneeling on lumps
People spitting
Itches
Cruelty to animals
Arrogant people
Rap, Garage
The rust on my car
Treading on lumps
Most of the wallpaper in my house
Banging my knee
Washing Up
Instant tea
Lying on lumps
Cities and pollution
Most soap operas
carefully balanced food rolling off the side of my fork before it reaches my mouth
Big flashy boxes with loads of plastic packaging and all for 4 miserly biscuits
Erecting ironing boards
Really hard pencils
Lumps
---
webmaster 11 October 2001